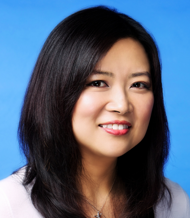 Dr. Evonne Chiu is a native of Taiwan and bi-lingual in English and Mandarin. After moving to the U.S. and attending two years of high school in Cupertino, she spent her undergraduate years at UC Berkeley where she received her bachelor degree in Molecular and Cell Biology.
She then moved to Ann Arbor to pursue her degree in Doctor of Dental Surgery at University of Michigan. After graduating from U of M, Dr. Chiu decided to extend her training by being part of the Advanced Education in General Dentistry program at USC. Once she finished her residency, she stayed in Los Angeles and practiced in several private dental offices before finally moving back to the Bay Area in 2010.
Giving her patients the best treatments and pleasant experience is of utmost importance to Dr. Chiu. She stays current with the latest dental advancements by attending continued education lectures and workshops. Dr. Chiu focuses her practice in cosmetics, restorative, and preventive dentistry. She is also very patient and gentle when caring for our pediatric (children) patients.
Dr. Chiu is a certified provider of Invisalign as well.
Besides her passion for dentistry, Dr. Chiu loves to bake as well. The staff is often treated with all sorts of goodies. While making her baking diaries, Dr. Chiu had also developed interest in food photography and styling.